When you think of a Jeep, you may think of rugged terrain and off-roading. In fact, there are a lot of clever Jeep accessories that make light of the adventurous nature of a Jeep — like this funny "No Problem / Problem" tire cover. But serious problems can occur when a Jeep is not driven appropriately or is driven by an inexperienced off-roader.
In November, the USVI Jeep Club shared this incident that occurred on a trail near The Beast on St. Croix's West End. We are relieved to report that the renters of this Jeep walked away OK.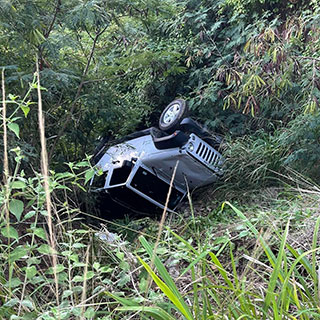 We'd like to take this opportunity to remind all current and future renters that Centerline rental vehicles are not to be driven off-road. In fact, a rental car Collision Damage Waiver is void if the vehicle is driven off-road. All damages incurred is driven off-road are the responsibility of the renter.
But What If I Want To Go Off-Road?
You're in luck! Gecko's Island Adventures offers ATV tours through the St. Croix rain forest AND they offer Centerline renters 10% off through our VIP program. Just make a reservation and we'll send you a promo code a few days prior to your arrival date.
If you really want to be in a Jeep for your off-road adventure, check out Tan Tan Tours.