Your Perfect Day on St. Croix might soon include a visit to the Leatherback Brewing Co. brewery and tasting room. In the works for nearly a year, Leatherback will hold their Grand Opening on Saturday, May 12.
The Leatherback tasting room has indoor and outdoor space, and even has an ocean view. With a passion for sustainability, their tables and bar accents are made from reclaimed pallets. They will be open 7 days a week from 11am-7pm.
The owner/partners of Leatherback have varying backgrounds, but have one obvious thing in common: a love of craft beer. Another connection is a brewery in Pennsylvania called Sly Fox. Sly Fox owner, John, and customer with St. Croix ties, Packy, joined forces with Aaron and Scot, of St. Croix, to make the dream of distributing craft beer from St. Croix a reality.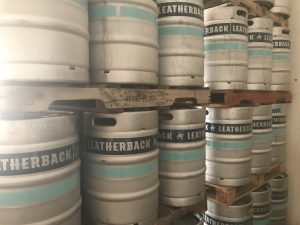 Brewmaster, Dave, moved with his family from Pennsylvania last fall to start brewing. He has been brewing for more than 12 years, including time at Sly Fox.
Leatherback currently has two brews, Island Life Lager and Reef Life IPA. As part of your Perfect Day, we recommend dining at one of the restaurants that offers Leatherback beers on tap after visiting the tasting room.
(Centerline does not condone drinking and driving, so be sure to have a designated driver.)