St. Croix is an agricultural island, with an abundance of colorful fruits, nutritious vegetables, free-range livestock and a variety of other agricultural products. If you're a locavore who likes discovering locally-grown and produced goods, we've got some tips for your Perfect Day on St. Croix.
The main farmer's market on St. Croix takes place on Saturday morning in La Reine (next door to La Reine Chicken Shack). The earlier you arrive, the more selection you'll find, and we do mean early — many vendors are set up before sunrise (around 6am)! Don't worry if you get there a little later though — there is still plenty to see and buy. Depending on what's in season, you'll find are range of locally-grown produce, such as avocados, papayas, pumpkin, mangoes, cucumbers, genip, sugar apples, tamarind, bananas, plantains and so much more. Specialty items, like honey, moringa powder, pates, bush tea, baked goods, and crafts, are also available.
Sejah Farm is close by and is open 7am to 5pm on Saturdays. You'll be met with kindness and cooking tips at their 15-acre farm. The Browne family has been instrumental in laying a foundation for the U.S. Virgin Islands agriculture industry and are very involved in ensuring that the local community has access to fresh fruits and vegetables.
Also on Saturday morning (10am to noon), ARTfarm is well worth a visit. They offer a selection of items, including lettuces, herbs, fruits, veggies and colorful zennia flowers. Customers start to line up at 9:30 to get their pick of the produce. You've never tasted a tomato so flavorful — if you see ARTfarm tomatoes on a restaurant menu, take our word for it and order that item.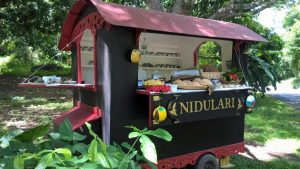 For an extra special treat for lunch, head into the rainforest on Mahogany Road. Nidulari is a small cart with huge flavor. In addition to a lunch menu, you'll find fresh-baked breads, cookies, pies, local jams, produce, eggs, and even bean-to-bar chocolate from Mahogany Road Chocolate. Check out their Facebook page for daily specials.
From there, continue into the rainforest for a self-guided tour of Ridge to Reef Farm. They're open from 10am to 4pm on Saturday, as well as other days of the week (and opportunities for a guided tour). A Jeep is recommended to get to Ridge to Reef.
Finally, we recommend choosing a Reef Responsible restaurant for dinner to partake in some locally and sustainably sourced seafood.
If you'll be on island May 26-28, 2018, check out the Agriculture & Food Fair of the U.S. Virgin Islands. Delayed slightly this year due to Hurricane Maria, this is a favorite festival of the island!