If you want to experience some Zen on your vacation, you'll discover two best-kept-secrets in the northwest corner of St. Croix. For your Perfect Day on St. Croix, drive north from Frederiksted to find the Labyrinth at Estate Mount Washington and the Monk's Bath.
Estate Mount Washington
Estate Mount Washington is a private property whose generous owners allow visitors to explore the ancient Danish cotton and sugar plantation ruins. Using local stones and coral, they have created a meditation labyrinth among the ruins. The walking path is designed for quiet prayer and peaceful self-reflection.
Estate Mount Washington has a long history dating back to 1750. The ruins include a sugar factory, boiling shed, molasses cistern, two story dungeon, animal mill, animal stables and stone remains of a 17-cottage village. The property is intact enough that it's a bit surreal imagining the stories that the structures tell.
To get there, drive north from Frederiksted past Rainbow Beach. You'll turn right on an unpaved road just before Butler Bay. Parking and the entrance will be on your left and are well-marked.
After exploring Estate Mount Washington, drive back out to the main road and go north again (turn right). In about a half mile, you'll pass Northside Valley on your right. Continue about another quarter mile and park on the left shoulder across from a large building. Follow a narrow and steep path down to the rocky beach to find your next dose of Zen.
Monk's Bath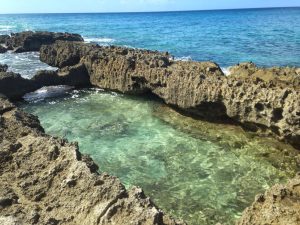 The Monk's Bath is said to have been hand-carved by monks of the Knights of Malta in the mid-17th Century. The rectangular tidal pool even has steps carved into the side. If you plan to take a dip in the spot where monks bathed more than 300 years ago, take a pair of water shoes as the rocks are sharp and sea urchins live among the rocks.
The 3-mile journey back to Frederiksted has many quiet beaches along the way. Go prepared with a picnic or venture back to town to enjoy one of the many fantastic restaurants.