Some people can't wait for the holidays to be over so they can have a break from parties and celebration, but not on St. Croix! Our St. Croix Christmas Festival, also known as Carnival, started on December 26 and culminates with the Children's and Adult Parades and closing night at the Village with fireworks.
The parades are an opportunity to see many cultural island traditions. Troupes dress in colorful, feathery handcrafted costumes and dance through the streets. Majorettes twirl batons and march along the parade route to the sounds of festive music. The St. Croix Festival Queen and her court are escorted in convertibles while adorned in bejeweled crowns and elegant dresses. Steel pan bands on double-decker trucks fill Frederiksted with island favorites. Mocko jumbies are decked out in their finest cultural attire.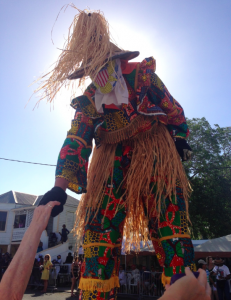 Expect to make a day of the Adult Parade. The start time is 10am, but we are on island time (some groups place friendly wagers on when the actual start time will be). Of course, you'll also want to get there a little early to scope out the perfect spot along the route. Take into consideration where the sun will be a various points during the day and be sure to bring sun protection (hat, sunscreen, etc.).
For a Perfect Day on St. Croix, visit the Carnival Village for local treats and stick around for the fireworks at 8pm.
Check out the Virgin Islands Carnival Schedules for dates and times, and the Crucian Christmas Festival Facebook page for photos of past festivals and updates.