We don't think we'll be inviting any other category 5 hurricanes to St. Croix anytime soon, but here's an optimistic observation from Virgin Kayak Tours:
"Maria gave the Biobay a boost by washing sediment out of the entrance. Over time the little channel coming in would eventually clog up and effect flow. Also, the Coast Guard has removed many of the shipwrecks in Salt River Bay, so the Bay looks better than before the storm!
Isn't it remarkable how nature has her ways of taking care of herself?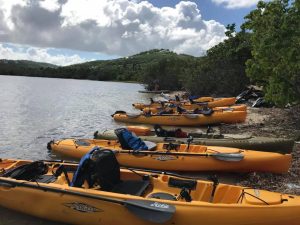 Virgin Kayak Tours had some light damage to their roofs, but all of their equipment was spared. They closed for the month of October and re-opened on November 1. Offerings include:
Bioluminescent Bay
Nighttime/Moonlight (NEW)
Daytime Eco-Historical
Women's Sunset SUP Tour (NEW)
Daily SUP and kayak rentals
Everything is by appointment and reservation with online booking at: www.virginkayaktours.com. All tours are $50.00/person. Virgin Kayak Tours offers locals a 10% discount.
Owner, Jill, believes that St. Croix is definitely ready for visitors. She's happy to see power being restored in many areas and she says the kayaking this time of year is beautiful!
"St. Croix may have suffered some damages due to Hurricane Maria, but we have all worked so hard for the past few months to get STX looking good, and up and running! And we are all anxiously awaiting visitors!