Dear Friends of Centerline,
We hope you had a nice Thanksgiving. It was an absolutely beautiful weekend on St. Croix — we're still counting our blessings!
There were feasts all over the island on Thanksiving Day. From beach potlucks to traditional family meals, from volunteers coming together to show thanks to aid workers to churches feeding those less fortunate, it was a day of thankfulness for sure.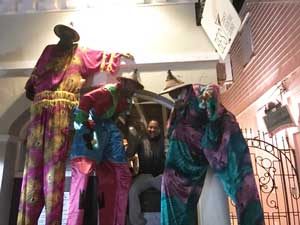 Friday was Jump Up and Christiansted was buzzing with energy! Food vendors and artisans lined the streets, steel pans played festive holiday tunes, and moko jumbies paraded all around town. It was a fun way to kick off the holiday season!
Sunday was Starving Artists Day at the Whim Plantation Museum. Locals and visitors strolled the grounds taking in the talents of our island artisans, not to mention the beautiful, breezy, blue-skied day.
As if we weren't already feeling festive, Santa (and Eeyore!) made a surprise visit at Cane Bay with gifts for all the children. Island holiday music set the tone for an upbeat Sunday Funday afternoon at the beach.
St. Croix's first new resort in 30 years, The Fred, is preparing to open its doors to relief and recovery workers this weekend. Their spa and gift shop are also open for visitors, and other amenities will be available as they are completed.
No hurricane could stop the 2017 Iron Bartender from opening the newest hot spot in Christiansted, Common Cents Pub. A unique menu, cold a/c, and a great courtyard with live music are just a few things to love about this place!
On Monday, the Virgin Islands Water and Power Authority announced that they are still committed to their goal of restoring 90% of the Territory's electricity by Christmas. So far, 36% of St. Croix has been restored. New materials and equipment arrived last week and more linemen continue to arrive to help with restoration.
The Virgin Islands Consortium reported that the USVI Department of Tourism has been meeting with major airlines to confirm their commitment to service St. Croix and our sister islands. "We will continue to push those segments of our tourism product that are ready for business, and as we rebuild and more hotel rooms become available, I am confident the USVI will be well poised in the marketplace to attract more visitors back to our shores," says Dept. of Tourism Commissioner Beverly Nicolson-Doty.
See our previous updates on our blog to get a better sense of how businesses on St.Croix are coming along. We apologize that we're not able to answer all of your questions about the condition of various areas and hotels. To get updates about a specific property or business, please contact them directly. You may also find USVI Department of Tourism's Hotel Property Update and GoToStCroix.com's Open for Business List to be helpful.