Smoke STX
There's a new barbecue place on St. Croix that everyone is talking about! Smoke STX BBQ & Bottle Shop has a mouthwatering menu complete with starters, sandwiches, plates, sides and desserts — even including some vegan options.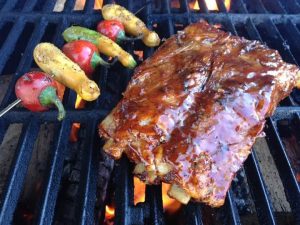 A few things that stand out on their menu are the BLT (you'll see why in a second), Three Day Ribs, Smoked Meatloaf, Mahi, and Chili (with a vegan option). Smoke makes their own special sauces — Original Honey Spice, Carolina Mustard, Shenandoah Red or Hellfire — three of which are Chef Joe's secret recipes and one passed down from family. And, get this, they make their own bacon and sell it by the pound.
Owned by Joe Smith and Brian "Monty" Montgomery, Smoke STX is located in Frederiksted in the Louie & Nachos complex and is open Wednesday through Sunday from 11am- 9pm. They're currently working on seating, but their carryout BBQ and bottles are perfect for the beach.
CoralFire
And where there's smoke, there's fire. Though it can't be on the same day as experiencing Smoke, we definitely think you should make time to see CoralFire at The Mermaid at The Buccaneer Resort on a Monday evening (starts at 7pm). They put on a spectacular fire dancing show using various contraptions, like twin hoops, dragon staff, fire poi, fire fans, and a flaming parasol.
CoralFire also performs at special events, including the upcoming Slow Down Dinner at Ridge to Reef Farm on September 9. Or you can hire them for a private show to suit your own theme, from jazz and flapper to rockabilly or swing, electronic or hip hop, reggae or Latin — they even have characters for kid's parties, like Alice in Wonderland and princesses.
If you're interested in learning their art, CoralFire offers private workshops and they are hosting the CoralFire Flow Arts & Yoga Retreat on St. Croix in November.