What's that bright, shining thing in the sky? The sun? A full moon? Or is it a disco ball?!
Ann's Perfect Day on St. Croix includes…
…taking my Centerline Jeep ( I like the 4-door blue one) for a drive from The Buccaneer out to watch the sunrise at Point Udall. After watching the sun come up, we cruise over across the south shore back to Christiansted to grab an iced tea and sweet at Twin City Coffee. Then we stop at the market for an Italian hoagie to-go and drive up the North Shore, ending at Carambola where we hike to the tide pools. There, we eat our lunch on the rock beach and take a dip in the pools. We take our time making our way back toward Christiansted, maybe stopping at Eat @ Cane Bay or Rowdy's Joe's, and roll back in time for Disco Bingo at The Deep End because that is the perfect end to any day.
Helpful Hints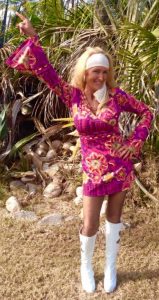 The Renaissance St. Croix Carambola Beach Resort is currently closed for renovations, but you can still park there to hike to the Annaly Bay Tide Pools. The hike is moderately challenging — approximately 4 miles round trip — but the scenic views and tide pools are quite a reward.
Disco Bingo is at 6:30 on Thursday evenings at The Deep End. Cards are $5 and there is disco dancing between the five rounds of Bingo. The final game winner gets the cash pot. Reservations are required — call 340-718-7071.