Jennifer has the right idea with her Perfect Day on St. Croix:
Start with a morning run at The Buccaneer. Then quick shower and off to brunch at Toast in Christiansted. After brunch pack up the cooler and the pups and head to Rainbow Beach for fun, sun, and beautiful water. Have to stop by Norma's first though. Stay for sunset. Hop in the car, drop off the pups and after a shower head to Ziggy's for a pre-dinner cocktail. Then to Duggan's for an amazing seafood dinner as the moon rises over the water.
A few tips:
If you park in the lot before the guard shack at The Buccaneer, you can access their walking path that offers breathtaking views while you exercise. Just look for the pirate sword signs to point you in the right direction.
Did you know that you can adopt a dog for the day from the St. Croix Animal Welfare Center? If Jennifer's Perfect Day sounds perfect to you, but you're visiting without your pup or you just don't have one (yet…), share your perfect day with an adoptable dog. This helps socialize the dogs and give them exposure to potential adopters!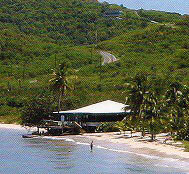 We're so happy that Duggan's Reef has re-opened after rebuilding from Hurricane Maria! Not entirely sure how St. Croix survived without Duggan's Famous Irish Whiskey Lobster for so long (279 days, but who's counting?), but we're glad they're back now. Duggan's is set right on the water, creating an idyllic atmosphere for brunch and dinner. We agree with Jennifer, it's a great way to end a Perfect Day on St. Croix!