Years ago St. Croix had the honor of hosting two of Hollywood's greatest talents –Morgan Freeman and Tim Robbins – as they filmed one of the best movies of all time: The Shawshank Redemption.
This month's "Wish You Were Here?" – brought to you by Centerline Car Rentals – showcases the setting for the film's most memorable scenes.
If you haven't crossed this spot off on your Bucket List, it's about time!
Located at the Southwestern tip of St. Croix, USVI, Sandy Point Wildlife refuge is a haven for those seeking solitude in an undisturbed Caribbean setting.
That made it a perfect escape for Tim Robbin's runaway Shawshank Redemption character to refurbish his boat.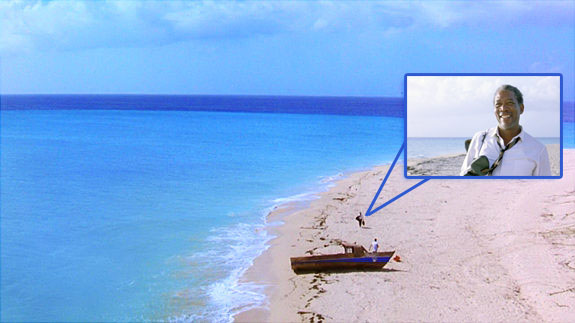 Don't go dragging a boat up onto the beach in real life though or the U.S. Fish & Wildlife Service officers who protect the area might take issue. And, we recommend you check the hours before you head there by land to make sure the refuge is open. Public access is allowed from 10 am – 4 pm on Saturdays & Sundays only.
Ol' Andy Dufresne and Red Redding aren't the only notable characters to seek solace at Sandy Point. Each year from April through August, hundreds of Leatherback Turtles make their way back to Sandy Point to nest and lay eggs.
A seasonal program called the Turtle Watch takes people to observe these enormous creatures as they make their way to the beach and dig their nests. Hatching viewings later in the season also may be arranged.
Learn more about these programs at the U.S. Fish & Wildlife website.
Now, for the directions we promised you:
Head West on the Melvin H. Evans Highway (Route 66), follow it until you pass the turn for Frederiksted. Proceed straight onto the two-lane road (Tranberg Road) and follw that until you reach a mandatory hard-right. You will See a sign and the entrance gate for Sandy Point. Enter and proceed with care until you reach the parking lot.
See map below – intended for informational purposes only.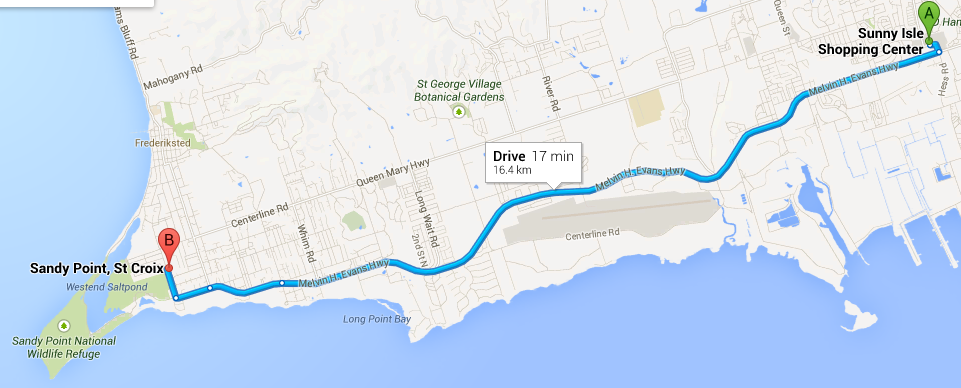 Because the refuge closes at 4 pm, we recommend you get there early. There are no vendors or restaurants at Sandy Point so you will probably want to pack in your swimsuit, sunscreen, a beach chair or two and a cooler with lunch and refreshments. The distance from your car to the beach is not far and a day at this untouched paradise is worth it!
Remember take only photos & leave only footprints…
Contact Us if you need a ride!
---
About Centerline Car Rentals St. Croix's "Wish You Were Here?" series:
We set out to offer tips and information designed to help readers enjoy and explore St. Croix. We always recommend that you obey all local laws, know your limits, explore responsibly and have as much fun as possible on our lovely island of St. Croix! Centerline Car Rentals is St. Croix's largest locally-owned, independent car rental agency.
Of course, we recommend you keep it local when selecting your vehicle for your Northshore excursion. Reserve your car online at Centerline Car Rentals and choose from our diverse cars, minivans, trucks, and jeeps for rent and determine your pick up location. We'll be there, guaranteed. So are you ready to start your road trip? Have a safe trip and remember, keep left.