The drive alone is a great introduction to the awesome views that Point Udall offers. Point Udall, St. Croix US Virgin Islands is the easternmost point in the United States and its territories by travel.  Route 82 East takes you to this amazing lookout point. At the beginning of your journey to Point Udall, you are able to see Buck Island Reef National Monument in the distance on your left and rolling hills on the right.  At the top of Point Udall is a sundial known as the Millennium Monument built for the New Year's celebration in 2000 that was in commemoration of the first U.S. sunrise of the new millennium. Point Udall is named for Stewart Udall, former US Secretary of the Interior under presidents John F. Kennedy and Lyndon B. Johnson.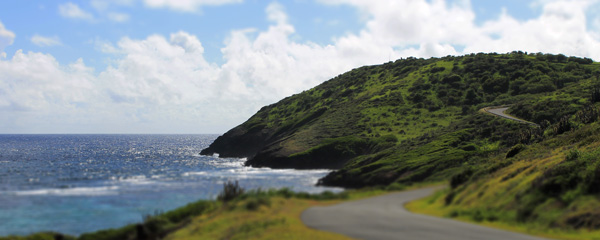 After you get to Point Udall and hop out of your vehicle, the Caribbean Sea welcomes you with beautiful blue waters. Foamy waves crash against rugged rocks at the bottom of the hill. The beauty does not end with the views at Point Udall. A great hike down the hill will take you to Jack's and Isaac's Bay beaches where you can absorb your fair share of vitamin D while you lay in the soft sand. The path starts on the right side of the road just before you get to the Millennium Monument. The Nature Conservancy protects both beaches. The beaches are also turtle nesting sites, so remember to have fun and be careful especially during nesting season.
Whether it's to be the first in the U.S. to experience the rising sun, a day trip that includes a hike to gorgeous beaches, or a spontaneous mini photo-shoot with friends and family, Point Udall is an attraction that can be the beginning of many amazing memories. The perfect time to visit Point Udall is around New Years. Pencil in Point Udall on your itinerary to ensure a perfect getaway. What better way to ring in the New Year than to be that first person to witness the first U.S. sunrise of 2015? A big bonus is that on St. Croix the New Year is kicked off with many festivities like our Three Kings Day parades, food fairs and other events that will give you a taste of our delicious local flavor.  Come join us and add to the flavor of St. Croix's melting pot.
When you get to Point Udall, take a picture or two and share it with us on our Facebook page.
Remember take only photos and leave only footprints… Contact us if you need a ride!