Flat calm, crystal clear azure seas. Sandy beaches for miles. Funky little beach bars. Even the occasional cruise ship to spice things up – just one at a time though, unlike our neighbors on St. Thomas who can get 6+ in a day.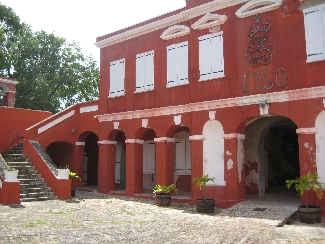 From the water, it is amazing how untouched St. Croix appears, especially out west in Frederiksted town. This view really shows St. Croix's gorgeous water. But it also captures from right to left, some of our favorite places in Frederiksted: Fort Frederik, the ballfield (where the donkey races are held during Emancipation Day festivities), Freedom City Surf Shop & Grille, the Frederiksted Country Club, Coconuts and just a glimpse of Rhythms at Rainbow.
If you visit these places during your stay on St. Croix, you would end up with a pretty cool day spent learning why some say West is Best! Pack for a beach day, but start at Fort Frederik (check that it is open first).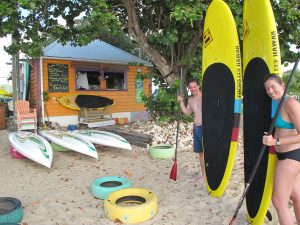 Then cruise down to two cute and unmistakably Caribbean buildings across from the ballpark. There you will find Freedom City Surf Shop & Grille. Pi & Bill will take good care of you and get you standing up on a Stand Up Paddle board (SUP) in no time.
Grab a snack and beverage at the neighboring grille before you head down the road (moving North) to Coconuts on the Beach. Try a Painkiller – if you are so inclined and have a designated driver.
Then, cruise north for about a half mile until you make see to Rhythms at Rainbow – this is THE Sunday party spot on St. Croix, but it is pretty amazing all other days as well. Rainbow has a sprawling beach and offers Jet Skis, SUP, beach chairs & umbrella rentals.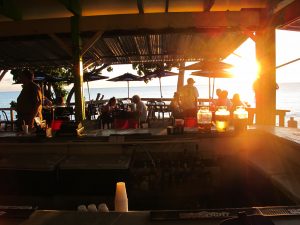 Their drink specials are delicious and when you wrap up your day on the beach, enjoy a nice meal on
their new deck and watch the spectacular sunset. Unbeatable!
Remember, wherever you may roam on our lovely island of St. Croix, take only photos & leave only footprints…
Contact Us if you need a ride!
---
About Centerline Car Rentals St. Croix's "Wish You Were Here?" series:
We set out to offer tips and information designed to help readers enjoy and explore St. Croix. We always recommend that you obey all local laws, know your limits, explore responsibly and have as much fun as possible on our lovely island of St. Croix! Centerline Car Rentals is St. Croix's largest locally-owned, independent car rental agency.
Of course, we recommend you keep it local when selecting your vehicle for your excursion. Reserve your car online at Centerline Car Rentals and choose from our diverse cars, minivans, trucks, and jeeps for rent and determine your pick up location. We'll be there, guaranteed. So are you ready to start your road trip? Have a safe trip and remember, keep left.