St. Croix has been the backdrop to quite a few movies, starting with "The Island of Dr. Moreau" filmed entirely on St. Croix in 1977. Fast-forward six years later and Hollywood's great Dan Akroyd and Eddie Murphy filmed the closing scenes to the 1983 hit, "Trading Places." You can find a list of movies and TV shows filmed in the US Virgin Islands by visiting the Department of Tourism Film Office.
From the movie you would never guess that Eddie Murphy (Billy Ray) was sitting on the beach at Davis Bay. Out in the beautiful turquoise water was Dan Akroyd (Louis) and Jamie Lee Curtis (Ophelia) enjoying the view from their boat. The area was so calm and quiet that Eddie heard Dan as he called out from his boat, "Looking good, Billy Ray". Eddie responded "Feeling good, Lewis."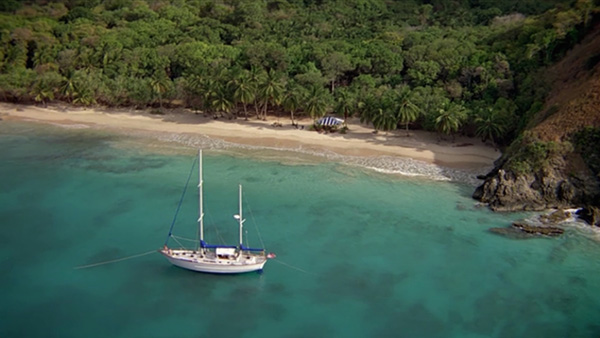 Today Davis Bay is where you will find the Marriott Renaissance Carambola Beach Resort and Spa, built in 1986.  If you haven't crossed this spot off on your Bucket List, it's about time!
Davis Bay is great for those seeking solitude and utter relaxation.  Once you are on the beach there are no nearby roads with cars zooming by and the beach is not in the flight path for most airlines so the only sounds you will hear are your heartbeat and the waves splashing against the shore.  Adventure seekers can also hike from Davis Bay to the nearby Annaly Bay Tide Pools.  If you get hungry, you can always run up to the hotel for a bite to eat or a cold drink.
To get to Davis Bay, head to the north shore.  If you are staying at Carambola Beach Resort you are already there!  If you are coming from Christiansted, drive west along Centerline Road and turn right on route 721 (just after the University of the Virgin Islands and Research and Technology Park).  If you are coming from Frederiksted, drive east along Centerline Road and turn left on Route 721 (just after the Department of Agriculture).
When you get to the end of Route 721, turn left on Midland Road (Route 69).  Continue to the end of Midland Road (about a mile) and turn right onto River Road. Drive to the end of River Road.  River Road has numerous twists and turns so drive with care. At the end of River Road turn left.  Continue about a half mile and you will see the entrance to Carambola Beach Resort.  Park behind the security guard booth and take the steps down to the beach.
When you make it to Davis Bay, take a picture or two and share it with us on our Facebook page.
Remember take only photos & leave only footprints…
Contact Us if you need a ride!
---
About Centerline Car Rentals St. Croix's "Wish You Were Here?" series:
We set out to offer tips and information designed to help readers enjoy and explore St. Croix. We always recommend that you obey all local laws, know your limits, explore responsibly and have as much fun as possible on our lovely island of St. Croix! Centerline Car Rentals is St. Croix's largest locally-owned, independent car rental agency.
Of course, we recommend you keep it local when selecting your vehicle for your excursion. Reserve your car online at Centerline Car Rentals and choose from our diverse cars, minivans, trucks, and jeeps for rent and determine your pick up location. We'll be there, guaranteed. So are you ready to start your road trip? Have a safe trip and remember, keep left.